The Starbucks Napkin: The birth of EloElo
One morning in late December 2019, Saurabh Pandey is sitting at his favorite spot in Starbucks at HSR Layout. This is the place he comes to block out the noise, get work done and channel his creativity. Cup of cappuccino in hand, earphones plugged in, Saurabh's mind races as he listens to a playlist of his favorite tracks. Saurabh takes a napkin from the table and starts scribbling down his thoughts.
For many years, Saurabh had been obsessed with the idea of starting his own company.  Entrepreneurship was his holy grail. The seeds of his entrepreneurial aspirations were sowed in his humble lower middle-class upbringing. Raised by his mother in a single parent household, the value of hard work and perseverance was deeply ingrained in him very early in his life.
"I learnt to hold dear what I had. Kya hoga agar yeh bhi nahi raha kal ko? (What happens if I don't even have what I have today?). But like they say, from your biggest adversity comes the biggest opportunity. My upbringing lit a fire in me to make something of myself and prove a point."
In his free time after work, he'd help his mother manage her YouTube channel "Swasthya Sadhana", where she shared life & health advice. She was one of India's growing body of creators (100M as of 2023), exploring the new channels of communication and community that mobile & internet proliferation had unlocked.
Sitting at Starbucks, Saurabh's vision for a startup catering to grassroots creators like his mom began to take shape.  He drew a grid to scope out how the platform would look. After thinking of ideas around Short Video with shoppable content and creator commerce, he later realized that the medium to take a bet on was "Live" – globally it was the single largest medium through which creators would run communities and monetize directly from superfans. Closer home, Live merely existed as a feature on certain large social platforms. But what if we could gamify it, make it for clean entertainment viewing and build a "Digital Third Place"?
The idea was simple: people could enter live rooms with no lag, interact with creators in real time, and have fun playing games. Think of it as "India ka Live Adda". The ultimate hangout zone for a billion plus Indians seeking new connections and vibrant communities centered on their favourite creators.
"I strongly believe in what Naval Ravikant (co-founder of AngelList) said – this decade will either be about code or creation.  You're either creating new experiences or content or building AI and tech infra. The ability to build an audience is very tough for creators who did not start early on an Instagram or YouTube. And most creators are starting now. Given how algorithmic it has gotten, we have moved away from a social graph completely to a more machine learning graph. I felt that in a country like ours, we need demand discovery along with infra to come together. That's when the magic happens."
All he needed now was a name. It had to be something easy to remember and catchy. Saurabh had always been fascinated by greetings from across the world like the ones you see when you power up your new smartphone. But the one greeting that is pervasive across all cultures is: Hello Hello. Just as this thought crossed his mind, as fate would have it, Bollywood hit Ole Ole, started playing. And it suddenly clicked. From Ole Ole, Saurabh reverse-engineered EloElo – a clever play on "Hello Hello". It was the perfect name.
Creativity beats Capital: How EloElo became India's fastest growing app
At the time of his 'Aha moment' at Starbucks, Saurabh was working at Flipkart.
He'd spent a little more than 4 years at the e-commerce giant, where he was Category Leader in the Sports Fitness Nutrition segment. The fast-paced world of e-commerce at Flipkart was a world apart from his previous experiences in the offline product space at L'Oreal and P&G. At Flipkart, he learnt the true power of scale.
"One of my most exciting experiences was Big Billion Day (Flipkart's annual sales festival where a jaw-dropping 1.6M+ shoppers visit the platform every second – a majority from Tier 2 & beyond). How do you even handle traffic at this scale? I was very clear in my mind: If I want to build something, I don't want it to be a small thing that is just operating out of my living room, I want to create something big with deeper impact. It fascinated me how there are millions of people shopping right now. You get a lot of unique insights into consumer behavior from analyzing their wish lists."
Most Internet economy behemoths (Amazon, Google, Meta) have gone on to become founder factories, birthing many startups & unicorns. The highly charged atmosphere of innovation at Flipkart enabled the rise of what is known as the "Flipkart Mafia". Many of the e-commerce giant's alumni have gone on to become torchbearers of India's startup ecosystem, founding 250+ companies, including 4 unicorns (PhonePe, Groww, Udaan and Cure.Fit). It was time for Saurabh to join the gang.
On January 7, 2020, just a couple of weeks after conceptualizing EloElo on the Starbucks napkin, Saurabh resigned from Flipkart.
There was no way he could be prepared for what came next. The pandemic. It simply wasn't possible to build EloElo remotely. The energy of brainstorming together in a room with a whiteboard just can't be replicated over Zoom.
But where there's a will, there's a way. Saurabh's living room became Eloelo's first office. The WiFi connection was reliable, there was always a steady supply of coffee & food. One bedroom in Saurabh's house was set aside for people to spend the night in case they couldn't go home amid Covid lockdowns. It was as good a workpad as they could've hoped for in those circumstances.
EloElo made three initial hires to manage tech, business, and operations –their "most important hires". Of these three, two are still building EloElo – a testament to the strong working culture Saurabh has built.
It was in Saurabh's living room that the foundation of EloElo was laid. Crucial details were fleshed out: Which brands were they going to onboard first, which creators are they going to target. EloElo started out by building an Instagram and Facebook page. Very quickly, they reached 15-20K subscribers – it was clear proof that people were excited and engaging with their ideas.
By June 2020, they had raised a seed $500,000 round led by WaterBridge Capital. The team had now grown to 10 people. Working out of Saurabh's living room was no longer viable. They initially moved into a co-working space, before eventually setting up their own office.
In September 2020, the EloElo app debuted as a live streaming platform for creators. It took two-three months to stabilize the product, but the app had already crossed 25,000-odd users by the end of 2020.
Games came as a natural extension to EloElo's live streaming platform. Working on product categories at Flipkart, Saurabh knew the value of experimentation. "We did many things at Flipkart and only two-three ended up working out. The outside world wouldn't know about all the things that failed. As a founder, you must keep trying things. Games was one of the first things we experimented with at EloElo."
In Jan 2021, EloElo launched their first game – one we've all played in our childhood: Musical Chairs. Creators would invite audiences into seats and play music in their live streams. And in turns, people would be eliminated. The novelty factor made it an instant hit. No other platform had thought of making Musical Chairs into an online social game! "It felt a bit like a society party inside a Live Room. This inspired us to keep on experimenting with more games. We were like children in Disneyland where we were trying all kinds of ideas and then our games started landing – Tambola, Chidiya Udd, Quizzes all landed. We now have about 19 live game formats across six languages."
Creators love EloElo because it offers strong engagement and the opportunity to build deeper bonds with fans. EloElo's host of games & live events have deep cultural resonance with Indian audiences, cutting across diverse categories like dancing, music, cooking, comedy, and astrology.​
This is why EloElo is now the #1 rated app on Google Play store in the Entertainment Category for India and the fastest growing app in the 1M-100M category. Over the past 2 years, EloElo has recorded phenomenal growth, crossing more than 30M+ active installs and with a majority of traction from Tier 2 and beyond.
Like many gaming & creator economy platforms, the biggest challenge for EloElo is cracking monetization beyond advertising models.  "For creators, the game is about building an audience, being in control of the narrative, showing an authentic style, and monetizing directly from your fans."
At present, less than 1% of creators are able to monetize their services. Social media platforms have traditionally been built for user engagement and monetized via ads. As a result, they've tended to prioritize follower acquisition and content distribution. Monetization for creators is usually an afterthought.  Lack of monetization has forced many to give up on their dreams to be Creators. This is what Saurabh aims to change with EloElo. Saurabh's broader mission is to trigger a cultural revolution where content creation becomes a viable profession.
In China, there are buildings dedicated for streamers to do their live shows and commerce. It's become a lucrative job there. Bigo Live & Bilibili are among the major success stories. Bigo Live, a live streaming and short video platform with over 300M users and $2B+ in revenue, was acquired by Chinese streaming giant YY in a $1.5B deal. Majority of their revenue came from creator gifting, advertisements, and commerce. Bilibili, on the other hand, has 250M monthly active users and $4B in revenue. They have raised $3.1B till date, monetizing effectively through their games, advertisements, and creator commerce.
"Indians took to YouTube and content creation intuitively, but we are still not able to make a real income out of it. If I am able to create that opportunity, then I feel I would have achieved something big. We have great engagement; we have strong retention and use cases. The problem statement we are now solving is how do you building things which people in Tier 2 & beyond are willing to spend on. It's interesting that Entertainment or Lifestyle is the first category consumers in these regions actually invest into when the GDP per capita is growing. Because they're feeling good and ready to enjoy entertainment with their families."
Creator Flywheel: Network Effects Kicking In
EloElo's team has many initiatives for monetization in the works-  In-App purchases, Game hints, Virtual Gifting and tipping, and Calls and chats , among others. "Many users are more comfortable with micro payments than monthly subscription fees. We're always trying new models. It's a challenge that constantly keeps us up and makes us want to experiment."
The EloElo DNA: Cultivating a strong culture. 
His Flipkart years made Saurabh a huge believer in cultivating a strong team & culture. It taught him how massive teams come together to work towards a goal and find common purpose to excel together.
The launch of EloElo's popular 'Love House' show was where all their learnings from Flipkart would be applied. "We tried to pull off with a 100 member team, what Flipkart would have done with a 1,000 member team. Everyone had defined roles. These six people in BD will need to do this specific task. The seven content moderators have to oversee this, three PMs have to do this. These 18 techies have to write this kind of code. This is what marketing will do etc. My five years of learning at Flipkart was condensed into a five-day 144 hour livestream for Love House."
The biggest reflection of the culture at EloElo are its townhalls. The potent mix of energy, fun & audaciousness is palpable. EloElo has a slogan, it goes: "Dhakka laga laga laga, hu ha hu ha". Everyone gathers to shout it three times before the start of and at the end of townhalls.
This anthem is a celebration of their constant existential struggle to win in a highly competitive space. "We're in the consumer tech industry where there are companies that could die left and right. Things go out of trend or fashion very quickly. That's the reality of the industry. Our competition is massive, we know that. But creativity can beat capital. We realise we always need to give our company a dhakka (push). So that's where our 'Dhakka laga laga' anthem comes from."
When Love House hit two lakh concurrent views, Saurabh was so pumped that he climbed on the table to lead the chorus of "Dhakka laga". Watch the video here.
To thrive amid stiff competition, EloElo does things differently. They've never done any traditional marketing like Above the Line (ATL) or Below the Line (BTL) campaigns. So far, they've relied largely on creators generating a buzz around EloElo on social media. EloElo's strong social media content game is a hallmark of their strategy of driving user traction. Over 50% of EloElo's downloads comes from channels outside the Play Store like YouTube and Instagram.
Having fun is an integral part of the EloElo marketing & social media ethos. "A lot of founders may not tell you this, but I actually am very proud of it: We use memes very extensively for our marketing. Most consumer products are trollable in some way. We collaborate with a lot of meme channels where we supply them with clips from EloElo shows and tell them to go ahead and make as many memes as they want."
For Love House, most of the traffic came through memes on actor Karthik Aryan who came live on the app. EloElo recently had viral social media influencer Urfi Javed on the app, drawing one of the highest mentions on Insta in terms of meme generations.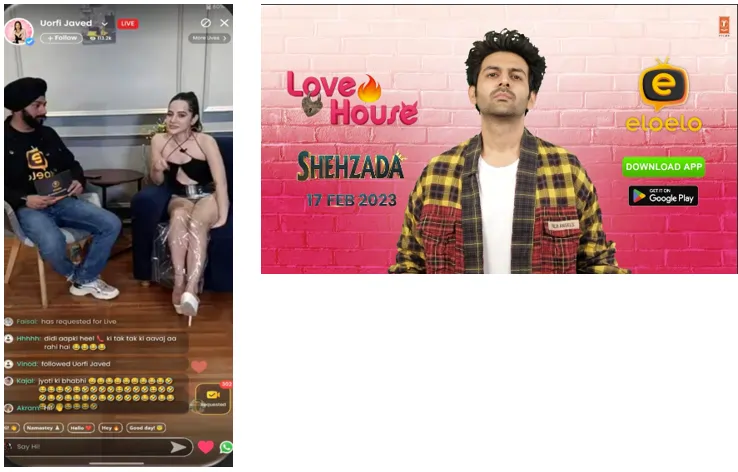 In many ways, EloElo is built in Saurabh's image, with many of his childhood influences reflected in the startup's DNA. As a teenager, Saurabh was massively overweight – weighing over 100kgs. His coping mechanism was to develop a great sense of humour and an outgoing, fun-loving nature. He loved being the "fat comedian" of his class, the kid who everyone referred to as funny.
His entrepreneurial journey, however, made him reflect more deeply on his health. Over the last 6 months, Saurabh has shed more than 13 kilos, by "being brutally efficient with time, not skipping a workout any day and following a daily diet plan". "If it's important to you, you will make time for it. No excuses," he writes in a recent Linkedin post.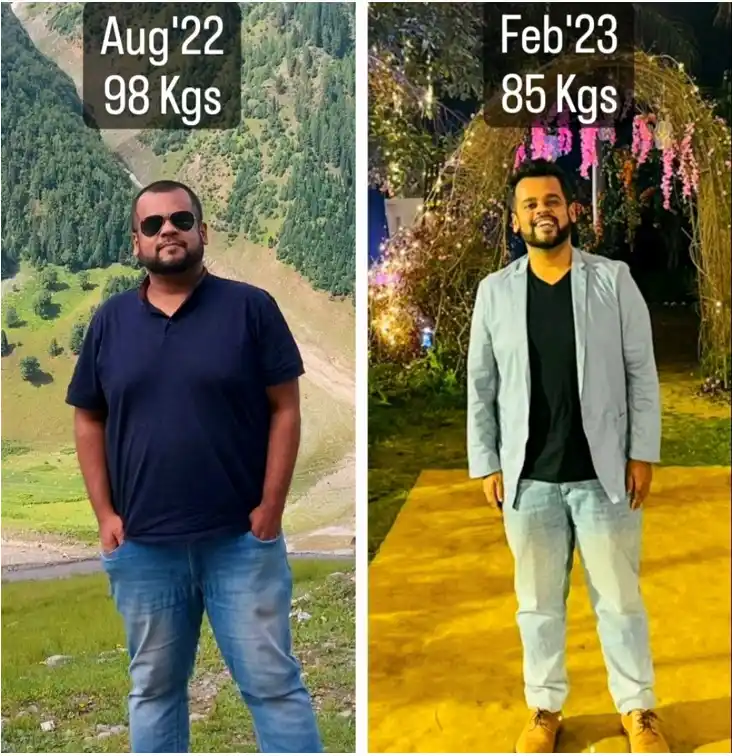 When Saurabh was in school, he really got into 'mono acting'. One of his favourite skits was mimicking Lalu Prasad Yadav. His early theatrical pursuits helped him appreciate what's needed to engage an audience. "As a kid, I did a lot of shows. Performing in front of 50 people, you get a sense of: What is getting a laugh? What is getting silence? What is getting an applause?"
Later, in his college years and early professional life, he'd regularly perform standup comedy at a bar called Prost in Bengaluru (which is now closed). "Every Thursday, Prost had an Open Mic night. I figured people are too drunk to notice your jokes. So I'll do my set and see if people are liking it. It was a lot of fun, but it gave me a lot of insights into engaging with a live room." It's a great skill to have as a leader – Saurabh often uses his jokes to liven up the atmosphere and boost morale at work.
Like many Millennials, he was addicted to TV in the 90s and 2000s. He watched every show he could, from Kyunki Saans Bhi Kabhi Bahu Thi & Kahani Ghar Ghar Ki to Ramayana & Mahabharata, even devouring repeats whenever possible. This addiction, a source of frustration for so many parents, gave him a deep understanding of entertainment in Bharat. EloElo's "Change the Box" campaign taps into this nostalgia, capturing the journey of listening to channels on "Radio" to watching DD on a "Black & White TV" to entertainment & gameshows on your "Colour TV" to being connected via the Apps on your "Mobile phone".
Today, Saurabh's mother, the inspiration behind EloElo, is among the regular users of the app. She is particularly fond of the astrology rooms and loves to play Tambola (or Housy in Bombay lingo).
Looking to the future, Saurabh knows that despite the phenomenal growth, EloElo has captured just a tiny fraction of the potential market. Saurabh has come a long way from where he started out. He is living his entrepreneurial dreams. But his journey has just begun; and that's what excites him most. He believes Eloelo has a huge responsibility to enable creators to build interactive communities and monetize directly from their fans, almost as if each of them were the moden day anchors of Sony or Star with their own prime time shows where the users don't just watch but are a part of it.
This month, Eloelo announced their Pre-Series B round of $22M led by our friends at Courtside Ventures & Griffin Gaming Partners, joined by Mixi Inc. along with existing investors Waterbridge Ventures, Lumikai Fund, Convivialite Ventures and Rocket Capital along with us. With this fresh funding, Eloelo has now raised a total of $37.5 million.
As India's creator economy and gaming revolution kicks into hyperdrive over the next decade, we, at Kalaari, believe that startups like EloElo will push the envelope of innovation to empower millions of creators and gamers across the country. Congratulations to Saurabh & the entire team on this milestone! We look forward to being a small part of their revolutionary journey.