Today, the mobile gaming is a $2.2B market in India, poised to reach $7B by 2025, clocking  a CAGR of 40%. An average Indian consumes over 8.5 hours of gaming content per week.
This rapid growth, with over 500M new gamers added in the last 3 years, has catapulted gaming into the new super platform for entertainment. To give some perspective on the size of the market opportunity, the gaming industry is expected to become larger than music and movies combined. Affordable mobile phones and accessible data have fuelled hypergrowth in different forms of gaming across India. This rising demand has triggered a steady rise in the number of game development studios, with 2,000 studios expected to be added in the next five years.
Gaming is by no means a new market in India. Hand-held consoles came to India in the early 90s and later, computer games also jostled for a share of India's relatively small gaming market. These formats, however, were too expensive for mass market. But mobile gaming changed that. While the journey has been slow, mobile gaming has evolved from SMS-based games and value-added services for telecommunication to what it is today.
Gaming 2.0 was the era of Real Money Gaming companies, that predominantly addressed monetisation and retention, the two biggest challenges in the Indian gaming industry. What we learnt is that Indian gamers are willing to pay and come back to the platform if they see value in the gameplay and content.
While RMG and Casual Games will continue to do well, we are excited by the immense potential of the upcoming models in gaming. We will see new paths to monetisation emerge , especially with the onset of Play2Earn and the amalgamation of NFTs and Crypto into gaming.
The opportunity for gaming entrepreneurs in India is enormous, with more users adopting hardcore games as their primary source of entertainment. ESports is emerging as a potential career opportunity and there is a very real possibility of a major global IP born in India.
Why Kalaari Invested in Atirath
Founded in 2020 by Shiva Bayyapunedi and Ramachandra Raju, Atirath is creating casual and midcore strategy-based mobile games primarily focussing on  India's rich history and culture. Shiva and Raju are repeat entrepreneurs, having built and sold Apalya Technologies, an OTT platform, after running it for 15 years. We were highly impressed with their ambition, product thinking and love for technology.
Atirath has created and launched 6 games on the Google Play Store  in the casual and midcore segment, achieving  impressive growth. They plan on crafting more gameplays based on historical storylines, weaving in the element of strategy to make it more entertaining for users. Their latest game – Satrap Wars (launched in September 2021) is a strategy game that requires users to raid enemy territories and collect in-game assets.
Atirath is on a mission to create an entire gaming universe with tradeable in-game NFT assets  and we look forward to an exciting new launch very soon!
An engaging story, coupled with interactive gameplay, always captivates the audience. With increasing disposable incomes and higher propensity to pay for in-app purchases, we feel new models of monetisation for mobile games will continue to pick up.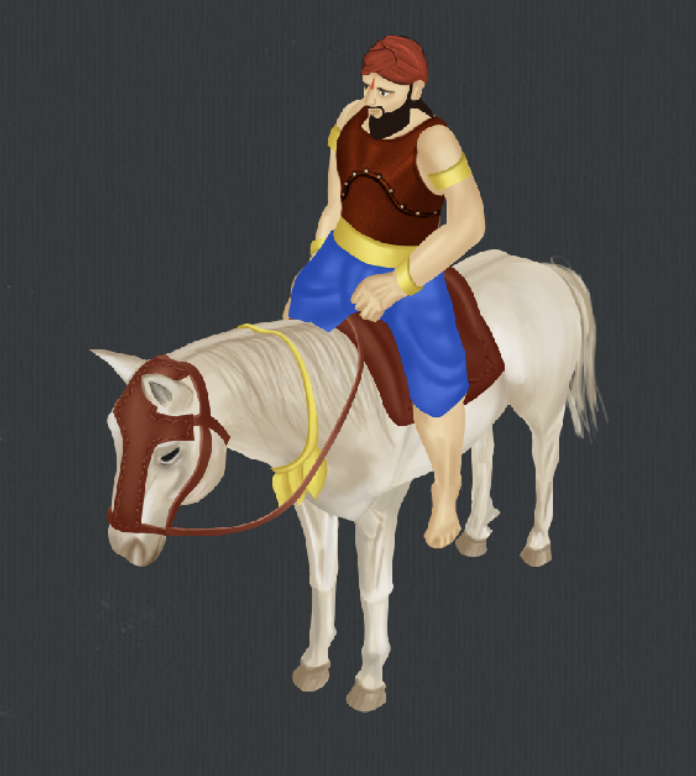 Vamshi Reddy, Partner at Kalaari Capital  writes – "
"Mythological games have sold over 200 million copies globally and we believe Indian mythology is still a largely untapped opportunity. Given India's rich history,  there is a high probability that a hit global IP will be built here and we continue to be bullish on gaming studios in India. Beyond compelling storylines and immersive experiences, we also expect NFT gameplay to present a huge opportunity for the gaming industry. . We are excited to be joining  Atirath on this thrilling adventure into a metaverse based on Indian mythology ."
Shiva Bayyapunedi, CEO at Atirath  writes –
"Our vision is to create a gaming metaverse with geographic, economic, and social experiences in the strategy genre connecting players, content creators and game publishers.
We are at an exciting stage in the gaming world where new business models are evolving. From gaming as a service to gaming as a platform model – as these model evolve, we will see a lot of innovation happening in the centralized and decentralized metaverse.
We are excited to have Kalaari as a partner on this journey."
We at Kalaari have always felt the need for new forms of immersive entertainment platforms specifically designed for the Indian audience and are delighted to partner with Atirath on their journey to create global IPs leveraging India's rich history and heritage.
Kalaari Capital is an early-stage, technology-focused venture capital firm based out of Bengaluru, India. Since 2006, Kalaari has empowered visionary entrepreneurs building unique solutions that reshape the way Indians live, work, consume and transact. The firm's ethos is to partner early with founders and work with them to navigate the inevitable challenges of fostering ideas into successful businesses. At its core, Kalaari believes in building long-term relationships based on trust, transparency, authenticity, and respect.
If you are an entrepreneur (or know an entrepreneur) building a company in the Gaming space, write to us at gaming@kalaari.com