Do you remember the time when all family members used to set aside a time every week, perhaps on a Sunday to play board or card games? The intense competition, arguments and many laughs…
Casual social games have always been India's favourite – and one of the primary reasons is that the people you play with make the games more fun!
Having closely tracked the gaming industry's growth trajectory over the last 20 years, Kalaari believes in India's potential to be the world's largest gaming hub. Fuelling this growth is the increasing need for social interactions. Online gaming has taken wing, opening up social spaces that were previously limited to friends and family.
Today, gaming is no longer a form of escapism or designed to cater only to a few hardcore gamers. 2020 was a watershed moment for the industry in India. Higher disposable incomes and more free-time amid the pandemic, along with a need for social interactions, led to the highest number of downloads and time spent on gaming apps.
Gaming is the biggest form of entertainment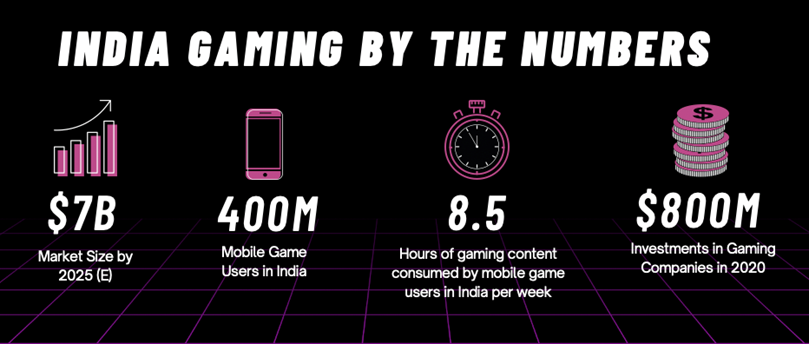 Mobile gaming today is a $2.2B market in India. It is poised to reach $7B by 2025, clocking a CAGR of 40%. Gaming is the biggest form of entertainment in India, with an average Indian consuming over 8.5 hours of gaming content per week, more than the time spent on Movies and TV.
We expect more Indian gaming companies to create global IPs and replicate the success of homegrown gamedev studios like Playsimple Games and Moonfrog.
Casual Gaming is the fastest growing segment
The casual gaming sector represents one of the fastest growing segments of the video game industry backed by successful business models such as In-App Purchases and advertising revenues. These games are targeting wide, mass market audiences, as opposed to hardcore games that are more niche.
These games continue to garner larger share of user time spent and have trumped mid-core games globally. With a strong payment infrastructure in place, users have become much more comfortable in paying for games.
Why we invested in Bombay Play?
When you play Bombay Play's games like Card Wars and Dice Merge – you instantly get flashbacks from those times when you used to squabble with your friends or family over a "Draw +4" moment in Uno!
Bombay Play identifies low social casual games, and converts them into Live, social, multiplayer experiences. They are pioneering the hypersocial gaming genre and have developed popular games including the likes of Dice Merge Puzzle, Card Party and Daily Word Puzzle.
Multiplayer experiences are one of the fastest growing segments within gaming globally and the market opportunity is massive.
Strong Founding Team with a very clear product vision!
At Kalaari, we value the clarity of thoughts Founders bring in. When we met Oliver and Abhas, we were impressed with the product vision and the clarity of thought around building games. Both the founders have over 10+ years of experience in the gaming industry and have strong complementary skillsets. Oli is one of India's pre-eminent game designers, having led design at Glu Mobile and Zynga, before going on to co-found Moonfrog Games. Abhas's engineering experience at Zynga, Moonfrog and Makemytrip complements that of Oli's.
Games that have proven product-market fit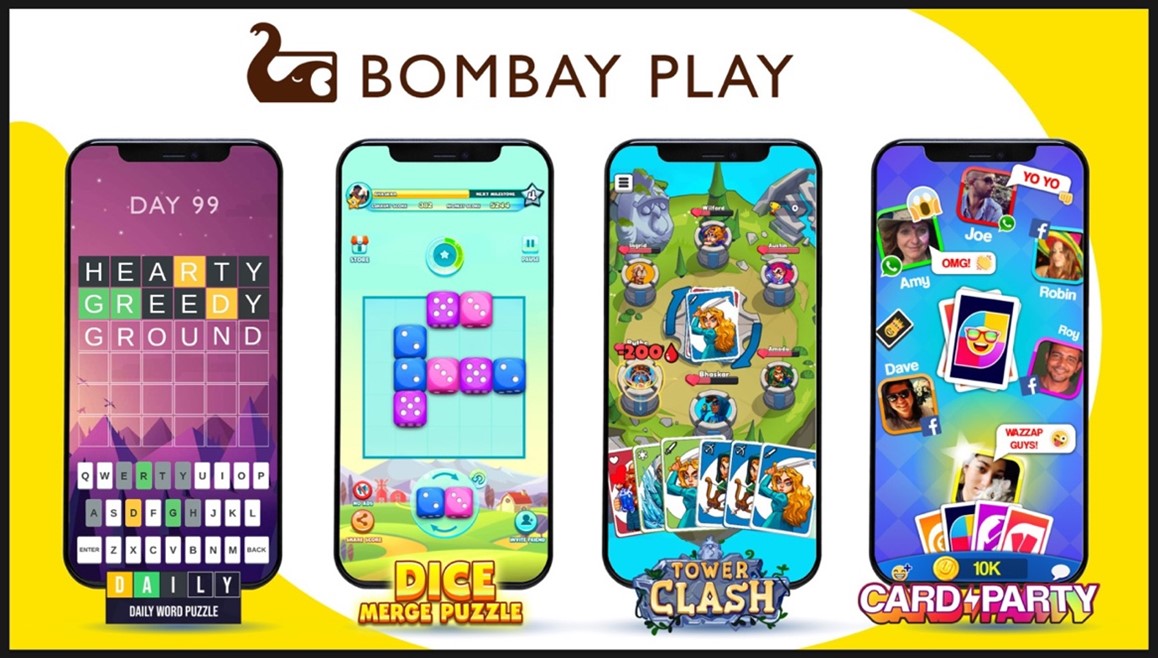 Bombay Play has launched 6+ games in the market that have seen strong retention and monetisation – the two biggest problems Indian gamedev studios face. They have garnered over 33M downloads and have witnessed strong growth.
When you combine the social aspects and the familiarity of board and card games, you get a strong value proposition. Familiarity ensures that drop off rates are contained, while users can relate to the games and the content is accessible. Retention and engagement are maintained, as their games played with others and do not require steep learning curve.
Core Thesis: Need for every game to go social
Bombay Play takes simple formats like card games, puzzles, word games and redesigns them with Features and Distribution models like user-generated tournaments, live chat, multiplayer rooms etc. This helps make their games hyper-social, while being platform agnostic (Google Play, Apple Store, HTML PC Games etc.) allows them to reach more users.
Today, for a game to succeed, social features are key. They enable faster distribution and virality, making users come back to the game – not only because of the gameplay but also because it gives gamers a chance to interact and play with others online.
We are highly thankful to Justin, Salone and the Lumikai team for introducing us to Oliver and Abhas. And we are also excited to work with Leo.Capital, PlayCo, WinZO and AdvantEdge Founders on this one!
Oliver Jones, Co-Founder and CEO at Bombay Play said – "Since the inception of Bombay Play, our aim has been to create games that you can play with your friends seamlessly. Our team's ambition is to disrupt the current casual games market with hypersocial game designs by leveraging our cross platform distribution channels. We are delighted to have found the confidence of investors in our journey to build a gaming innovation factory in India. With the amount raised, we will scale up existing offerings while investing in cutting-edge technologies to elevate the social experience of casual gamers worldwide.

Vani Kola, Managing Director at Kalaari Capital added – "We were highly impressed with what Oliver and Abhas have been able to achieve, and they are among the most experienced gaming entrepreneurs in the country today. We are very excited about how they are disrupting the casual gaming industry with their hypersocial model and are delighted to partner with them in this journey"
Kalaari Capital is an early-stage, technology-focused venture capital firm based out of Bengaluru, India. Since 2006, Kalaari has empowered visionary entrepreneurs building unique solutions that reshape the way Indians live, work, consume and transact. The firm's ethos is to partner early with founders and work with them to navigate the inevitable challenges of fostering ideas into successful businesses. At its core, Kalaari believes in building long-term relationships based on trust, transparency, authenticity, and respect.
If you are an entrepreneur (or know an entrepreneur) building a company in the Gaming space, write to us at gaming@kalaari.com