"Everybody recognizes that if you can make very efficient electric motors, you can make a quantum leap forward."
– James Dyson, British Inventor
In 1834, Thomas Davenport, a Vermont blacksmith built the first electric DC motor with four electromagnets. Being truly ahead of his time, Davenport was refused a patent for this device. Only when Davenport could showcase its application in an electric car, did he attract its attention in the mainstream media?
Around 2 centuries hence, the applications of electric motors are across products — from blowers and fans to mills and ships.
The history of human advancement has been defined by breakthroughs in science and engineering. The invention of the induction motor was one of these events. There are nearly 800 million induction motors being used globally across industries every year! Yet, most of these motors are still based on the scientific advancements of the 1800s, with incremental improvement post that.
The $100B Global Induction Motor market, growing at 8% CAGR, is ripe for disruption.
Due to several industry shifts, there is an opportunity now to develop a standardized, tech-enabled, next-gen motor. There are four drivers for the potential of an industry-wide disruption in electric motors:
Energy source: Across industries, there is a shift from oil-based to electricity-based energy sources. This shift will require innovation across different components in the machines. Motors are at the heart of the moving machines.
Supply chain: The motors in use today rely on permanent magnets. The constitute materials have a concentrated supply base in China. Geopolitical situations are now forcing localization of supply chains. Thus, there is a need for tech to replace or remove the magnets.
Software: Leveraging software (controller) to control hardware (motor), requires advanced algorithms and strong processing power. These advancements have only been made possible recently. The software can allow motor manufacturing to be intelligent, and efficient.
Standardization: India's electric motor market is $1B, growing at 11% CAGR to $2B by 2025. Currently, the market is flooded by low-tech, non-standardized products. There are no credible drive or motor developers in India. There is an opportunity for a tech player to standardize the market.
The permanent magnets in traditional motors drive up the cost of the motor and bring down the efficiency due to excess heat losses. Traditional induction motors are also extremely harmful to our environment. The design of a motor is critical to its environmental impact since the design determines how much energy the motor will eventually consume.
Why Kalaari Invested in Chara
Kalaari is committed to working with DeepTech founders on the path to redefining industries.
Chara has developed a proprietary motor design based on Switched Reluctance (SRM) technology. Due to the lack of magnets in SRM, the motor offers a superior experience at lower costs.
Today, SRM is in the infancy of commercial applications, restricted to mid-sized aircraft. Despite the strong market interest, the motor stayed in research for decades, and could not be realized to its full potential due to high torque, noise, and vibrations.
Chara is redefining the motor design with software-enabled motor control. The innovative design and algorithms, allow Chara to control the non-linear nature of SRM and optimize it for various use-cases. By further leveraging analytics and ML, Chara can continuously improve the performance of the motor.
By creating an efficient, rare-earth-free, software-controlled motor, Chara will be able to revolutionize the global induction motor market and build a strong domestic & international presence.
Chara stacks up to traditional motors as below –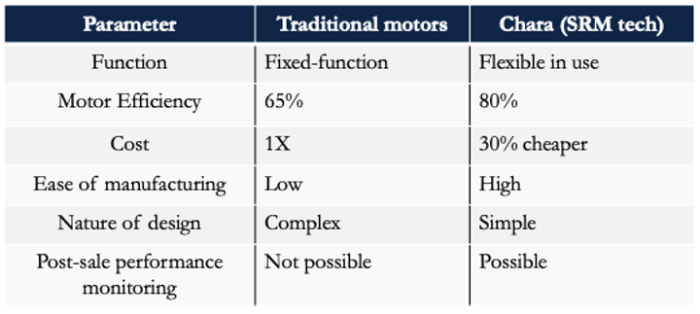 Traditional Motors v/s Chara
With their ground-up design, serviceability, and cost advantages, Chara is uniquely positioned to target both domestic (electric vehicles, home appliances) and industrial (aerospace, drones, manufacturing, defense) use-cases.
When we first met the founders — Bhakta, Ravi, and Maha — they had spent more than two years researching, doing exhaustive modeling, prototyping, and field testing. They are committed to creating a generational innovation.
This is what they are passionate about. For the founders, this is more than just a business. It's about disrupting laggard industries. It's about challenging the status quo. It's about solving real-world problems that will have a global impact for the decades to come.
Chara is the legacy they want to leave behind.
As the world moves away from a hydrocarbon-based energy economy to a cleaner electron-based energy economy, Chara's vision is to be at the forefront of this global revolution.
The founders come with several decades of experience in this space and bring deep technical and domain expertise to address this problem.
Bhaktha has built India's first POS grounds-up — Ezetap, and grew it to a $200M business from scratch.
Ravi comes with multi-decade experience in building and deploying motors.
Maha has extensive Embedded product development and Power Electronics experience in multiple domains.
For us, partnering with Bhakta, Ravi and Maha was a no-brainer. Their vision of disrupting a massive market, combined with their collective background, was the perfect mix.
Ravinder Singh and Chirag Gandhi from Kalaari form the deal team for Chara. With every interaction, our collective conviction in Chara continued to grow. Their passion for purpose, along with deep conviction in the space backed by research is what drove us to partner with Chara, as they look to build their own tribe and reinvent.
At Kalaari, we always want to back visionary founders with disruptive thinking. Building in DeepTech requires courage and intellect, to take science and engineering risk in realizing ideation till ensuring the fulfillment of future market demand.
Thank you — Bhaktha, Ravi, and Maha — we are privileged to partner with you in realizing your vision of transitioning the world to an electron-based energy economy.
Alongside our partners at CIIE, Kalaari led an $850K seed round in Chara.
From Bhaktha, CEO of Chara: "We are very excited to be partnered with Kalaari and CIIE.CO who have deep experience in supporting and nurturing deep-tech ventures. Interest from consumers cutting across industries has been very encouraging."
We are excited by this partnership and Chara's contribution to creating a better civilization with a green impact across industries.
It's time to pull the plug on hydrocarbons. The future is electric.
Kalaari Capital is an early-stage venture capital firm based out of Bengaluru. We are committed to empower entrepreneurs and support founders creating the future industries of India. If you are an entrepreneur (or know an entrepreneur) building a company in the DeepTech space, please write to us at deeptech@kalaari.com
Wish to work with Chara? They are actively hiring for roles across hardware, AI/ML, sales and more. Please apply at this form or drop a WhatsApp note to +91–90080 66311