Recent news of electric vehicles (EVs) catching fire was a wake-up call for India's fledgling EV industry. These incidents have triggered intense discussions about the safety, regulatory controls & reliability of EVs. Despite the concerns, the transition to electric vehicles (EVs) is inevitable. By 2030, the government aims to achieve 30% EV penetration versus just 4.7% of overall automobile sales in 2022. 
Government initiatives combined with growing awareness on climate action have sparked a 2000% surge in EV sales from 2019 to 2022. This explosive growth suggests EVs have crossed an inflection point. By 2030, EV and energy systems are projected to snowball into a $80B+ market in India alone.  
The recent conversations on EV battery safety have cast the spotlight on one of the most critical subsystems in the EV industry: energy storage systems. In EVs, battery packs account for almost 40% of the cost of the vehicle and define critical performance metrics. Moreover, in a country of varying terrain and climate conditions, battery pack design is key to ensuring safety of the vehicle and optimising performance.  
Scaling energy storage solutions is crucial for grid stabilisation as well as uniform distribution and storage for use beyond peak generation. A lot of ongoing research is focussed on optimising performance – from different cell chemistries, to optimised design of battery packs and alternate storage technologies. 
While cell chemistry plays a significant role in driving battery performance, the operating parameters such as temperature and pressure are equally critical. The safety and performance of a battery are defined by the battery pack design, which includes factors such as thermal management, safety features, and module configurations. The engineering design of battery packs in EVs involves a number of considerations: 
Cooling System: An efficient cooling system is essential for the safe and reliable operation of the battery pack. The most common cooling systems used in EV battery packs are air-cooling and liquid-cooling. Air-cooling is simple and inexpensive to implement, but less effective at dissipating heat. Liquid-cooling is more efficient and can handle higher power densities, but more complex and costly. The choice of cooling system also depends on the specific requirements of the vehicle and the application. 
Packaging and Layout: The packaging and layout of the battery cells are important considerations in the design of the battery pack. The cells must be packaged in a way that maximises the use of space and minimises the risk of damage or leakage. Additionally, the layout of the cells has to account for cooling, electrical connections, and structural support. 
Electrical and Thermal Management: The management of the electrical and thermal systems of the battery pack is critical to the safe and reliable operation of the vehicle. This includes the use of battery management systems (BMS) to monitor and control the state of charge of the cells, as well as temperature and voltage sensors to monitor the temperature and voltage of the cells. The BMS also provides protection to the battery pack by disconnecting the cells if the voltage or temperature exceeds a certain limit. 
Safety: As we have seen with the recent incidents of fires, safety is a massive factor in the design of EV battery packs. The battery cells and cooling system must be designed to minimise the risk of fires or explosions. Additionally, the BMS should be designed to provide protection against overcharging, over-discharging, and over-temperature conditions. The design of a battery pack should also be able to track cell level metrics, to provide timely cut-off in case of a thermal runaway 
Cost: The cost of the battery pack is also an important consideration in the design process. The goal is to develop a battery pack that is both cost-effective and meets the performance requirements of the vehicle.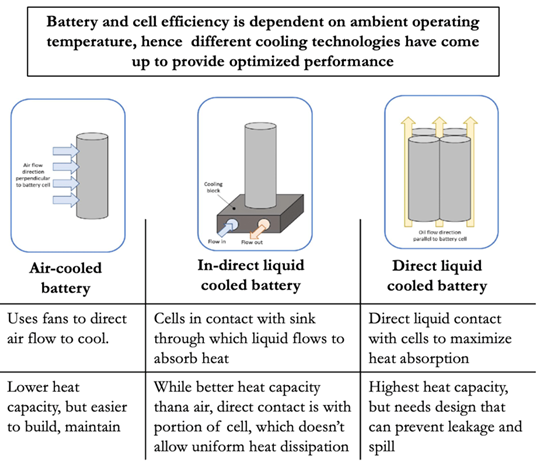 Why we invested in Clean Electric
Clean Electric has designed direct liquid cooled battery packs with the vision of optimising safety and efficiency. Its patent-filed design ensures no thermal runway and minimises cell degradation to provide fast charging and maximised lifecycles. The engineering design is optimised to allow the same chemistry – NMC and LFP to outperform existing market solutions , while the Lego-inspired structure, allows the company to cater to applications ranging from 1KWh to 1MWh applications.
With the growing consumer and regulatory focus on safety of EVs, Clean Electric's battery packs will bring thermal designs that are fundamentally better than traditional air-cooled systems in the market today. This technology will power the move towards EVs while also providing safe and effective solutions for stationary storage applications.
Akash Gupta and Abhinav Roy are exceptional founders who have spent time to develop an understanding of battery subsystems and how their performance is affected under different operating conditions. This granular understanding has translated into the optimised engineering design of the Zero Kelvin battery packs
Akash Gupta, co-founder and CEO, Clean Electric – "We are really excited to work along with Kalaari, having Ravi and the Kalaari team's expertise allows us to grow and scale faster in both technology and business verticals. Their expertise in supporting and building deep tech start-ups, that can Make in India for the world is completely aligned to our vision at Peer Robotics"
Ravinder Pal Singh (Ravi) and Pranav Koshal  form the deal team for Clean Electric at Kalaari Capital. We are supe excited to partner with Akash & Abhinav as they revolutionise energy storage solutions in the EV industry and power a greener future!
Kalaari Capital is an early-stage, technology-focused venture capital firm based out of Bengaluru, India. Since 2006, Kalaari has empowered visionary entrepreneurs building unique solutions that reshape the way Indians live, work, consume and transact. The firm's ethos is to partner early with founders and work with them to navigate the inevitable challenges of fostering ideas into successful businesses. At its core, Kalaari believes in building long-term relationships based on trust, transparency, authenticity, and respect.  
If you are an entrepreneur (or know an entrepreneur) building a company in the DeepTech space, please write to us at deeptech@kalaari.com.