"Investing in the early years is one of the smartest things a country can do. Early childhood experiences have a profound impact on brain development – affecting learning, health, behavior and ultimately, lifetime opportunities" – World Bank
Education as we know it is rapidly transforming – India is home to 271M children and ~25M children are now digitally native – kids who are adept at searching for their favorite Peppa Pig and Masha and Bear video on YouTube. This generation has entirely become comfortable with learning from the Internet, which has dramatically improved access to quality education as we knew it. EdTech as a sector is at a confluence of change – the pandemic has fundamentally transformed the way we educate ourselves. Blended learning has already become more mainstream and will now also apply to younger audiences. However, parents are increasingly concerned about time spent around gadgets – how can their children's screen time become more productive and engaging? 
While YouTube Kids provides an exhaustive content library to parents; it only leads to passive content consumption without any personalization or any assessment of learning requirements. 
A study conducted by Harvard University emphasizes the significance of a robust K-5 experience for overall brain development. At Kalaari, we identified that the ECE space is highly under-served though of critical importance. The current generation of digitally native learners requires innovative platforms that are personalized, engaging, and contribute to a productive learning environment.  
In a massive $10B market – we looked at several companies in the ECE segment, but Creative Galileo stood out for us.  
Why Kalaari Invested in Creative Galileo
Creative Galileo, built for global learners aged 3-12, offers a gamified multi-verse to accelerate learning in an engaging manner using familiar and well-known characters to build strong foundational skills. 
The founders of Creative Galileo – Prerna and Nikhil bring a deep commitment to transform the early learning landscape and we were deeply impressed with their expertise and insights on learning pedagogy besides having complimentary skill sets across product development and platforms. 
At the intersection of technology, entertainment, and pedagogy — the early learning platform focuses on the development of numeracy, language, and literacy, motor, and social skills besides building creative expression and curiosity.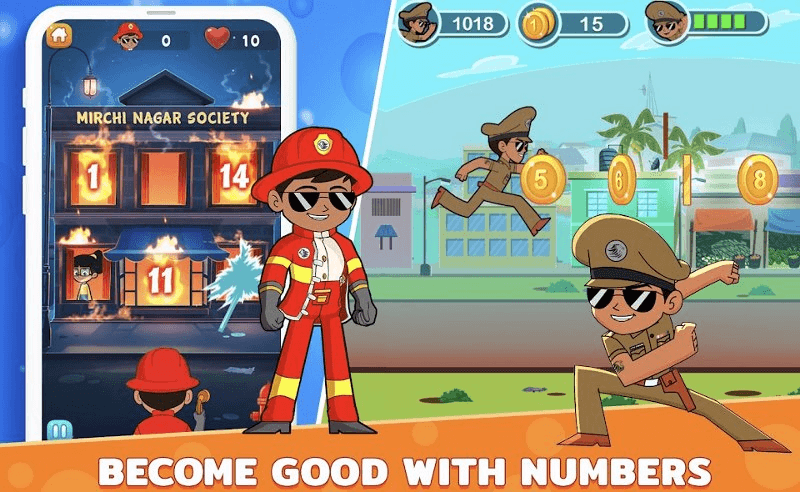 The learning app provides a holistic and personalized learning journey to each learner through a combination of high-quality narrative videos, e-books, puzzles, and advanced tools for pronunciation and phonics. 
Kids and Parents love Creative Galileo alike which is easily evident in the organic growth that the learning app has achieved over the last 12 months without any marketing spends. Today Creative Galileo is one of the fastest-growing early learning apps in India with over 4 million downloads and a monthly active user base of over half a million growing strong each month.
Co-Founder and CEO, Prerna Jhunjhunwala writes -
"When we were evaluating term sheets, we were clear that our seed funding round should not be about commercials alone, but the VC we partner with. We understood the partnership with our first VC will be a long-term relationship during which we will go through a lot of ups and downs together. So, the partner must be understanding, driven, founder-friendly, visionary, with a strong knowledge of the industry. Our interactions with Vani and the Kalaari Team gave us the confidence that they are not just investing capital but are driven to grow like us, us. We see Kalaari Capital be a true partner in the journey and are thankful to the entire team for their unwavering support and encouragement." 
Managing Director, Vani Kola writes -
"At Kalaari we believe that technology in learning can bring unmatched access and affordability and improve literacy for a much larger target segment – technology as a means of transformation led by passionate founders designed for the next generation of young digitally native learners is what Creative Galileo stands for. When we met Prerna and Nikhil – we truly saw them as shapers of a digital tomorrow building the EdTech solutions for global learners of the future. We are also proud that Creative Galileo is our first investee from our flagship CXXO Program that we launched earlier this year. 
Kalaari Capital is an early-stage, technology-focused venture capital firm based out of Bengaluru, India. Since 2006, Kalaari has empowered visionary entrepreneurs building unique solutions that reshape the way Indians live, work, consume and transact. The firm's ethos is to partner early with founders and work with them to navigate the inevitable challenges of fostering ideas into successful businesses. At its core, Kalaari believes in building long-term relationships based on trust, transparency, authenticity, and respect.
If you are an entrepreneur (or know an entrepreneur) building a company in the EdTech space, please write to us at edtech@kalaari.com
If you are excited about Creative Galileo, and creating impact in the early learning space, please check the openings here.