"A brand is a promise. A good brand is a promise kept."
— Muhtar Kent, ex-CEO of Coca Cola
How consumer preferences have evolved in the BPC (Beauty & Personal Care) space
It may seem like we have thousands of options to choose from for our skincare routine today – but not long ago, most Indian consumers were convinced that moisturizing cream and talcum powder was all that was needed for their skin. BPC in India is a $20B market today, with ~10% penetration online. To put that in perspective, the US BPC market is 4x in volume for a population that is 1/4th in size!
The story of BPC in India begins with the founding of Lakme in 1952. While brands like Lifebuoy and Lux have been around for more than 100 years, these brands were first introduced in foreign markets and then launched in India. Given its exotic name, many might assume that Lakme is a foreign brand but in fact, it has its origins in India. A consumer spending survey in the 1950s showed that women were splurging on imported cosmetics – which was impacting India's forex reserves. In an attempt to arrest this trend, JRD Tata started a home-grown skincare brand that appealed to upper middle-class women. And thus, Lakme was born.
Over the next 60 years, purchasing BPC products remained mostly an offline affair – consumers would discover products at the local grocery retail outlet or pharmacy. Retail chains would have a section of their store earmarked for BPC products, but a standalone store focused on personal care products was unheard of. All of this changed with the founding of Nykaa in 2012.
Nykaa paved the way for the purchase of BPC products online through its marketplace approach. The appeal for consumers was the partnerships that it had with global brands. Over time, Nykaa built up strong brand equity through its content-commerce approach, private label offerings as well as expansion into offline stores. Today, 30% of online BPC purchase volumes flow through Nykaa's portal.
Nykaa made the Indian woman comfortable with purchasing BPC products online.
To tap into this trend, brands had to develop a unique positioning that drove recall from consumers. Brands began to position themselves as natural/organic alternatives to what was available in the market. These products were characterised by clean and sustainable packaging.
As consumers became more educated, they began to question the ingredients that were going into the formulations themselves. Two new models emerged :
Where the consumer decides to put their faith in a curator that they trust : Curation focused marketplaces emerged for this set of consumers. These marketplaces have a strong focus on community, and all the products listed on these platforms go through a thorough vetting process to ensure that they live up to the promise of being honest and organic.
Where the consumer decides to understand the impact of each ingredient in-depth as well as its impact on their body : This set of consumers have moved towards evidence-based skincare and looking at purchases from a problem-solution point of view. This wave is also characterised by the rise of the 'skin-tellectual millennial' consumer.
The evidence-based skincare vertical remains the fastest growing segment within BPC today. We estimate that it will become a $400M revenue opportunity by 2025.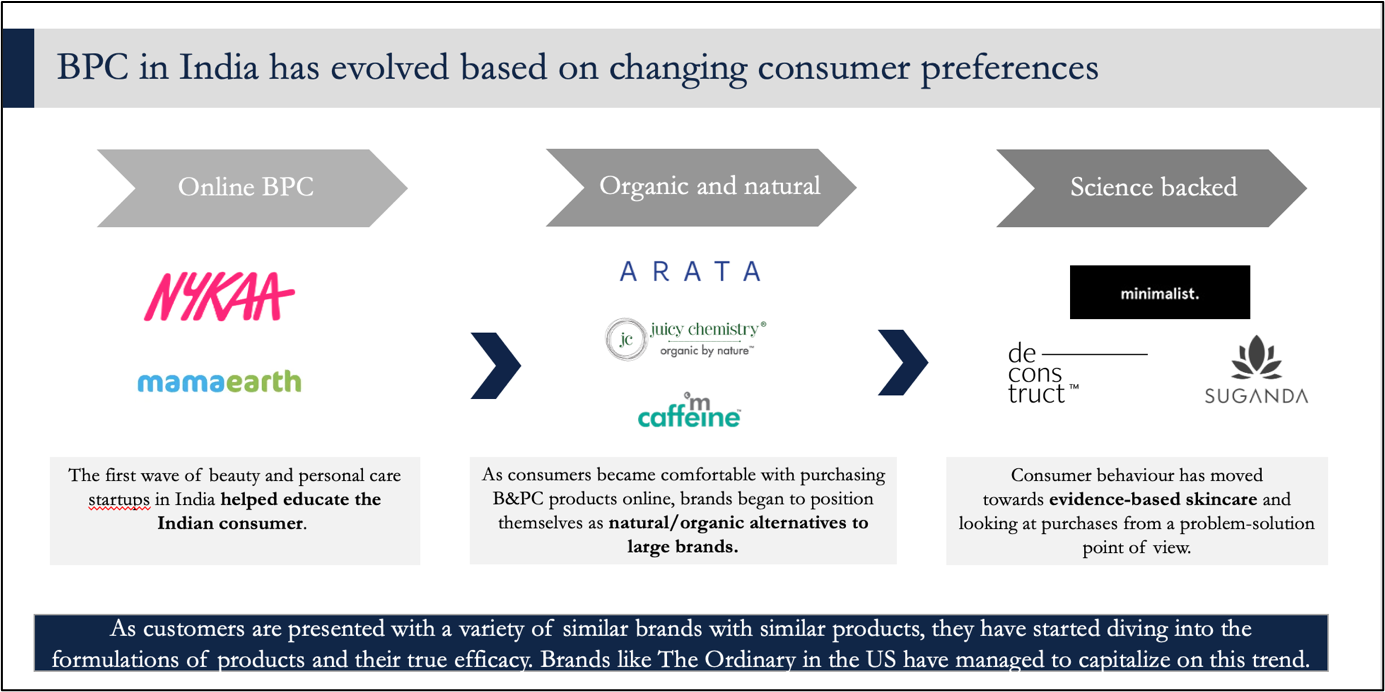 Why Kalaari invested in Deconstruct
Deconstruct is building evidence-based personal care products for the knowledge economy. Their philosophy lies in helping consumers understand product formulations, and its impact on their skin. The brand has a focused content strategy to drive consumer education – this includes information around different ingredients as well as skin concerns.
The brand currently has 20 SKUs across face washes, moisturizers and serums. Customers are able to filter through the products depending on their skin goal so that they can arrive at a regimen that helps to solve for their needs.
Deconstruct has an engaged community of users online, and strong repeat usage has laid the base for capital efficient growth. ~20K followers on Instagram, positive video reviews on YouTube, as well as vocal advocates for the products on Reddit provide evidence of strong customer love and brand resonance.
Malini Adapureddy, CEO at Deconstruct says: "Kalaari came in from a very first principle thought process and did a detailed understanding of the business. This provided me immense confidence that they can be extremely valuable partners who can go beyond capital. Kalaari has invested in multiple consumer businesses and has seen them scale and this will be of help as we go forward. Another impressive initiative that attracted me as a woman entrepreneur is the CXXO – for the inspirational and like-minded women that are a part and for the vision to help create a level playing field."
Malini comes with strong CPG experience having spent time across P&G and Kraft-Heinz managing P&L for multiple brands. In fact, it was her stint managing Glucon-D that led to her insight around the power of ingredients and formulations which would eventually prove to be the trigger for the launch of Deconstruct.
Vamshi Reddy, Partner at Kalaari Capital says:  
There is a paradigm shift in terms of consumer preferences with respect to beauty and personal care in the past few years. Annual per capita consumption of BPC products in India today is at $15 – we are only scratching the surface in terms of penetration. As consumers and their purchase behavior evolves, we believe there will be an opportunity for new age brands to capitalize on unique value propositions to build strong recall from consumers. 
Deconstruct has proven product market fit with evidence based skin care to educate customers around formulations and their impact. Strong customer love for the products, as well as capital-efficient growth, makes us believe that the brand is poised to scale rapidly over the next few years. 
We at Kalaari are excited about playing a role in Deconstruct's journey towards becoming the most loved BPC brand in India. Thank you, Malini – we are proud to support you in building a brand that will bring joy to millions of consumers.
Wish to work with Deconstruct? They are actively hiring for marketing and growth roles. You can check all openings at https://www.linkedin.com/company/the-deconstruct/jobs/
Kalaari Capital is an early-stage, technology-focused venture capital firm based out of Bengaluru, India. Since 2006, Kalaari has empowered visionary entrepreneurs building unique solutions that reshape the way Indians live, work, consume and transact. The firm's ethos is to partner early with founders and work with them to navigate the inevitable challenges of fostering ideas into successful businesses. At its core, Kalaari believes in building long-term relationships based on trust, transparency, authenticity, and respect.
If you are an entrepreneur (or know an entrepreneur) building a company in the consumer brands space, please write to us at d2c@kalaari.com.