(L-R) Varshul Gupta, Anuja Dhawan – Co-founders of Dubverse
India today has nearly 80M creators – encompassing content creators, video streamers, influencers, bloggers, and creators on OTT platforms. Essentially, anyone building a community. The power of the internet and social platforms enables these creators to distribute their content, build a following, and in turn, foster deeper relationships with their audiences.  
India is a melting pot of languages and cultures. Over 90% of the country's population converses in regional languages. To engage with more people, creators will have to produce content in different languages, as we explain below. The easiest way to increase the reach of content is to make it multi-lingual. 
Dubbing content, however, is a complex, costly and inefficient process. It usually involves a recording studio, recording artist, transcriber, translator, and video editor. The process can take at least 3 weeks and cost as much as $20 per minute per language. With the creator economy on the rise, we believe the future to be 'dubbing on the go' where a single click converts videos into several other languages.  
In comes Dubverse! Dubverse lets content creators dub a video to any language, in almost real-time for half the cost. The platform's Video In-Video Out process uses Deep Learning and AI to make every video multi-lingual. Aside from reducing costs, this saves a lot of time for creators – roughly 10x time efficiency, compared to standard translators.
The potential for video dubbing software in India is immense. Video is the biggest form of content consumption. More than 80% of all data consumed is through video.
The video user base in India is over 350 million and growing at 24% annually from 2018 to 2020 — 2x faster than countries such as China and Indonesia. It is expected that 650M+ Indians will consume some form of videos (short form or long form) by 2025, spending up to 55 to 60 minutes every day watching videos.
As video consumption proliferates, so will demand for local language content. Over 15 local languages are spoken by 10M+ users in India. According to a Google KPMG report, 70% Indians find local language digital content more reliable and over 88% Indian language internet users are more likely to respond to digital advertisements in their local language.
Considering the size of the local language user base in India, the present market opportunity is estimated to be $10B.
This is why many leading content creators today are focussing on growing their vernacular channels. From BBC to Cadbury, everyone is going vernacular. Vernacular video platforms have done well and will continue to do so in India.
Why we invested in Dubverse?
With the vision to make every video multi-lingual, Dubverse was founded by Varshul Gupta and Anuja Dhawan. We are truly excited by their mission to democratise content through Deep Learning and AI. We immediately recognised that Varshul and Anuja possess the domain knowledge and experience to change the way videos are consumed.

Passionate Founders with a clear product vision!
Having worked together for 5+ years at Limetray, Varshul and Anuja bring complementary skill sets with expertise across Artificial Intelligence, Machine Learning and Content Creation.
Our confidence was reinforced by their passion and commitment to removing language barriers in video consumption.
The Dubverse Model: Making Every Video Multi-Lingual
End-to-end dubbing requires video and speech synthesis. Since every language has a different expression, it is very difficult to automate the entire process. Human intervention is required at every step to ensure minimal mistakes, making it a tedious process.
Dubverse solves this complex problem in 3 Simple Steps:
Step 1: Upload the video, it is as simple as copy-pasting the YouTube link of the video. Alternatively, user can also upload the video from local device. Select the Language and the choice of speaker, Dubverse supports 30+ languages and has a wide variety of AI speakers.
Step 2: Dubbing happens in almost real-time, Review the Dubbed Video for any brand specific changes and make changes to the script. Alternatively use the army of Reviewers from the Dubverse community to QC the output video.
Step 3: Download or share the video, Dubverse also allows users to share the video across platforms for verification of languages, grammar, or any brand guidelines. Feedback and rating can be collected on the platform directly.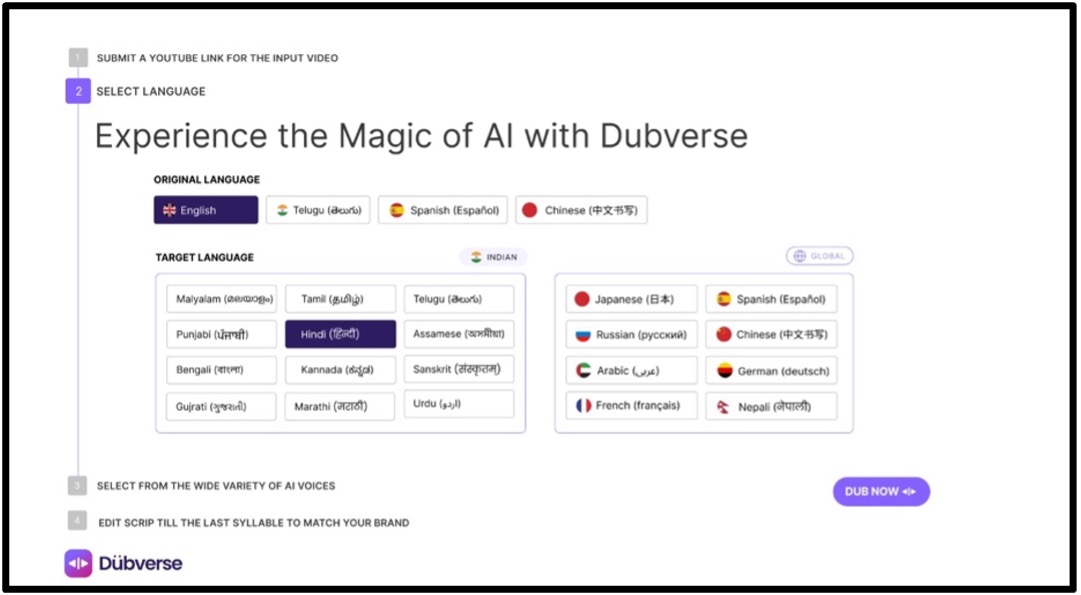 We are delighted to work alongside key Angel Investors and Operators including Jasminder Gulati (Co-Founder, NowFloats), Sairee Chahal (CEO, Sheroes), Supriya Paul (Co-Founder, Josh Talks), Vinay Singhal (Co-Founder, STAGE), Abhishek Agarwal (Sheroes), Sooraj Elamana (Co-Founder, Market Feed) and Sharique Samsudheen (CEO, Market Feed) who join us on this exciting journey.
Anuja Dhawan, Co-Founder at Dubverse, said – "In a world connected by globalization and divided by languages, we at Dubverse have set out on a mission to make every video multi-lingual and make the internet a more inclusive place. We are building tools to make video content creation easier, faster and scalable. Dubbing using the Dubverse platform, allows users to re-purpose their already produced videos by moving across languages, which enables them to reach more people with the same content. We are thrilled to have Kalaari as a partner on this journey."
 Varshul Gupta, Co-Founder at Dubverse, added – "Dubverse operates on a simple hypothesis – AI will massively bring down the barriers to creating media. With an ever-increasing language barrier, it is challenging for first-time internet users to find content in their language. For marketers, YouTubers, media houses to even OTT platforms it's nearly impossible to reach these users given the spectrum of languages and dialects in India and globally. With technologies like machine translation, speech synthesis, and GPT-3, dubbing using AI is now possible. We are very excited to build in this landscape and bring the power of AI to every content creator."
Vamshi Reddy, Partner at Kalaari Capital, commented – "With over 80 million creators in India and 350 million+ consumers watching video content, there is a strong need for content to be multi-lingual. Dubverse is building a technology platform that enables content to be created once and dubbed into different languages in a fast, easy and cost efficient way. We are super excited to partner with Varshul and Anuja on their journey of removing language barriers in video consumption."
Kalaari Capital is an early-stage, technology-focused venture capital firm based out of Bengaluru, India. Since 2006, Kalaari has empowered visionary entrepreneurs building unique solutions that reshape the way Indians live, work, consume and transact. The firm's ethos is to partner early with founders and work with them to navigate the inevitable challenges of fostering ideas into successful businesses. At its core, Kalaari believes in building long-term relationships based on trust, transparency, authenticity, and respect.
If you are an entrepreneur (or know an entrepreneur) building a company in the SaaS space, write to us at saas@kalaari.com