"Without music, life would be a mistake."
– Friedrich Nietzsche
Since time immemorial, humans have been creating and listening to music. Whether it be the classics of Pandit Jasraj and M.S. Subbulakshmi, AR Rahman's debut album in Roja, or even the rap battles on the streets of Dharavi that so aptly caught our imagination in GullyBoy, music transcends everything that humans distinguish themselves from — race, religion, gender, and caste.
For most of us, learning a musical instrument has been a part of our childhood. While online K12 education has been growing rapidly, we have noticed the opportunity for extra-curricular learning going digital.
Future outlooks for digitization, user growth, and increased funding are likely to be particularly aggressive. These drivers of growth have led to a watershed moment for EdTech in India.
Although extra-curricular education is a large market, not all segments are equally likely to go online. Certain segments like music are still nascent but growing fast.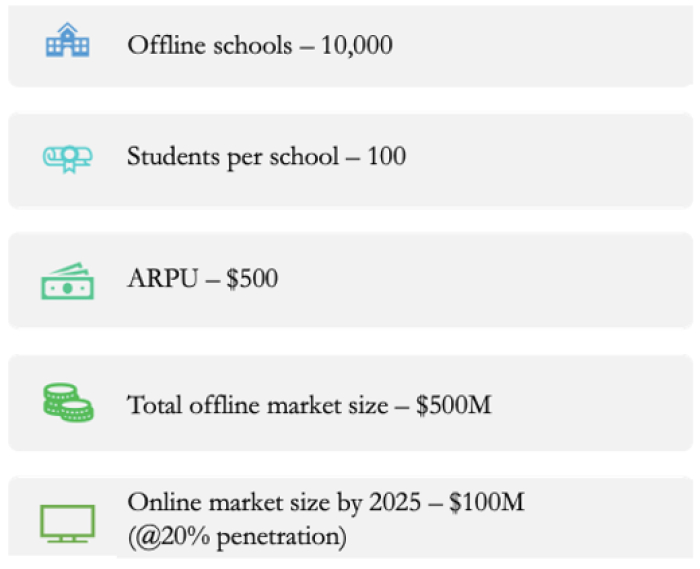 The total offline music learning market is ~$500M. No major player has established leadership in the online extra-curricular segment.
Why Kalaari invested in Muzigal
Muzigal is an online platform that connects teachers and students to teach and learn music at their convenience easily and affordably. It makes the entire online learning experience seamless from booking, scheduling, and the whole class management lifecycle between the student and teacher.
Muzigal has shown great traction in a few short months and has emerged as the single largest musical destination for teachers and students through — A superior product-market fit in a large and growing opportunity; strong student retention; and high conversion of classes.
The founder, Dr. Lakshmi, is a first-generation entrepreneur with over 2 decades of experience in building successful organizations across diversified fields. He has prior experience in scaling a wide range of offline businesses and has the first-hand experience of various music learning bottlenecks.
Lakshmi, CEO of Muzigal quotes, "Kalaari was our obvious choice as their theme of partnering early and long-term with entrepreneurs, resonates very well with our ambition to make this app a global marketplace in music learning. We strongly believe that their expert advice based on their understanding of tech and consumer services businesses would be of immense value besides capital."
At Kalaari, we are always looking for long-term partnerships with entrepreneurs building great products. We are privileged to partner with Lakshmi as he executes Muzigal's vision to become a vertical super app that encompasses all aspects of the online learning opportunity.
Kalaari Capital is an early-stage venture capital firm based out of Bengaluru. We are committed to empower entrepreneurs and support founders creating the future industries of India. If you are an entrepreneur (or know an entrepreneur) building a company in the EdTechSpace, please write to us at edtech@kalaari.com
Wish to work with Muzigal? They are actively hiring for marketing and product management roles. Please share your candidature or references at careers@muzigal.com or WhatsApp on 9989022823