Globally, the gaming market is expected to cross $230B in 2022. Games made up just 6.1% of global spending in the entertainment and media sector in 2017. By 2026, that share is expected to cross 11%. While there is massive demand for new gaming IPs, one of the biggest impediments is a huge shortage of tech talent in gaming.   
We've had several conversations with early stage gaming startups in India who are trying to build world class IPs to go toe-to-toe with global giants. They almost always ask us – how can we help them find the right tech talent? Tech talent is the biggest road blocker for a lot of gaming companies.  
Fostering an ecosystem for upskilling and talent development is key. Take gaming in Turkey, for instance. It is known as the 'Silicon Valley' of Mobile Gaming. The industry started to grow in the 2000s and experienced a period of hypergrowth in the 2010s. Currently, the gaming industry in Turkey records $880M in revenues, and mobile games account for roughly half of this. 
One of the main reasons is the robust game development education in Turkey. Game development is popular among students and young professionals in Turkey, as it is seen as a highly lucrative industry. Independent courses from institutes and universities enable them to develop games on their own! 
When you look at India, gaming is already the biggest form of entertainment. It is turning into a huge career opportunity as well. However, we don't have a formal education ecosystem around game development. Those passionate about this field end up going to other parts of the world like the US and Turkey to study and get upskilled. There is thus a huge opportunity to build the right talent pool out of India for the gaming industry. 
Outscal is an upskilling platform for Gaming and Web 3.0. They not only offer an array of courses for students and young professionals, but also work with them on developing their portfolios and connect them with industry mentors. Through content, events and workshops, Outscal has built a very strong community of learners and game developers.   
Outscal is expanding their offerings to acquire users who want to build projects in Web 3.0. They are also targeting Indie game developers and individual creators who are looking to kickstart their journey in the gaming industry. 250+ students have already enrolled in their flagship courses. Enabling the right mentorship and connects, Outscal has successfully helped students land jobs at global gaming companies with an average salary of INR 4.5L per annum. 
Demand: Gaming will provide the highest number of jobs in the coming few years 
There are ~250,000 jobs in the global gaming industry annually, of which more than 50% are entry-level. In addition, there are 1.25M jobs globally if we combine gaming with Web3, which is estimated to be an indicative $6.25B market.
Within gaming, software engineering and game development are two of the most in-demand sectors. Simultaneously, the e-sports industry is expected to create more than 11,000 direct and indirect jobs by 2025. This underscores the opportunities in ancillary fields like  game design, event management, ethical and legislative laws, esports marketing, league management and others.
According to a report published by IBISWorld, the unemployment rate in the industry is already near zero for those with gaming development and design skills.
Supply: Shortage of Tech Talent
The highest demand for gaming talent, as mentioned earlier, comes from development and design. The job market for these roles is predicted to grow by 9.3% till 2026.
In a recent survey by Gamesmith, game development and design jobs account for 16% of available openings in the gaming industry. The two segments, however, make up for only 5% of all applications, demonstrating a big mismatch in terms of demand and supply. As gaming studios continue to prosper, more jobs are expected to come up. However, there is a huge shortage of tech talent available to cater to these jobs.
Why Kalaari invested in Outscal?
Passionate founder with a very strong vision:
We, at Kalaari, value disruptive founders who bring deep insights into their sectors.
Mayank is a seasoned professional in the gaming industry who has worked in India as well the US.  When we met Mayank, we loved his passion & vision to build a platform that focuses on Gaming and Web 3.0 upskilling. He understands the problem of talent shortage deeply which led him to start Outscal in 2018. His aim was to bridge the gap between college education and industry expectation.
Full Stack Courses & Strong Community: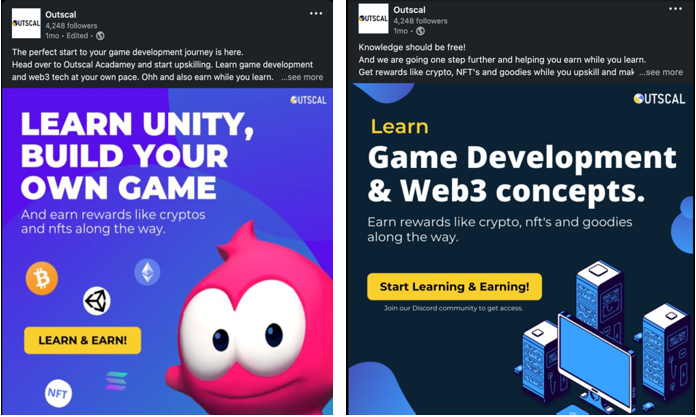 With a community-led model, Outscal has enabled peer-to-peer learning. In addition, they have partnered with 100+ game development studios, creating a strong network of potential employers.
We, at Kalaari, are delighted to partner with Outscal on their journey of plugging the talent gap in the gaming industry. We believe in their vision of helping young professionals and students land jobs in their dream companies while simultaneously creating a rich pool of candidates for upcoming studios.
Mayank Grover, Founder and CEO at Outscal said – "Vani and Kalaari are super bullish about the gaming ecosystem. Having them by our side on this journey brings in strategic excellence and a birds-eye view of the global gaming industry. This handshake will surely take us a step closer to our mission of building a robust talent community for the gaming industry."
At Kalaari, we believe that 'Plug and play' & 'games-as-a-service' are among the models that will accelerate development cycles for game studios. As demand for gaming jobs & infrastructure rises, bridging the talent & cost gap will be crucial. We are really excited to partner with Mayank and his team as they look to solve one of the biggest challenges in the gaming industry: the shortage of tech talent.
Kalaari Capital is an early-stage, technology-focused venture capital firm based out of Bengaluru, India. Since 2006, Kalaari has empowered visionary entrepreneurs building unique solutions that reshape the way Indians live, work, consume and transact. The firm's ethos is to partner early with founders and work with them to navigate the inevitable challenges of fostering ideas into successful businesses. At its core, Kalaari believes in building long-term relationships based on trust, transparency, authenticity, and respect.
If you are an entrepreneur (or know an entrepreneur) building a company in the Gaming space, write to us at gaming@kalaari.com