Halving the global productivity gap between SMEs and large companies would amount to about $15 trillion in corresponding value added, or roughly 7% of global GDP.
The growing focus on Small and Medium Enterprises
Globally, countries are looking to boost economic growth and bolster independence from global supply chains. However, to hyperscale GDP growth, manufacturing is crucial and has a larger multiplier than the services sector – by creating jobs and driving the nation's independent capabilities in production and supply chains. In this ambition of driving productivity, focus has to be increased on SMEs, which represent over 90% of manufacturing facilities in major geographies including India and US.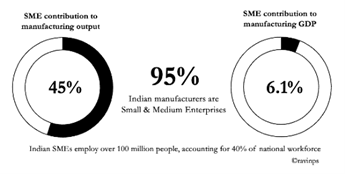 Large corporations have made large capex and R&D investments to adopt technology and automation (Industry 4.0) to leverage economies of scale and drive productivity. The SME sector on the other hand, is largely unpenetrated by robotics and automation, which has increased their gap to large manufacturers, impacting growth and margins while also making this more fragile to disruptions.
In construction, for example, McKinsey research found that the productivity gap between SMEs and large companies is 26 % in France, 41% in Germany, and 54 %  in Italy. In the food-services and accommodation sector, the gap is smaller for Italy, at 29%, compared with 39% for France and 41% for Germany. These productivity differences reach 60% in Turkey and 80% in Greece in many sectors. And a large share of the world's population works for an SME—between 50% and 90% of the labour force, depending on the country.
Infact, the difference in median 'return on operating assets' between large manufacturers and SMEs has doubled from 15% in 1990s to 30-35% by 2017.
Most robotics solutions today, are only suited for capital-intensive, large-volume industrial manufacturing, resulting in costly and complex systems, usually mono-function, which often cannot be used in the context of an SME.
SMEs account for a majority of the industry (over 90% in US, India), but when it comes to value of output, they have fallen behind large corporations, which have leveraged economies of scale and technology to drive productivity. This is also world's immediate and biggest economic opportunity to catalyse prosperity. If SMEs become focal for cost-effective automation, it will open avenues to boost productivity, quality and transform huge chunk of the distraught economy globally competitive.  Hence SMEs clearly need technological intervention to drive productivity and quality to remain competitive, the current solutions lack on 4 major fronts: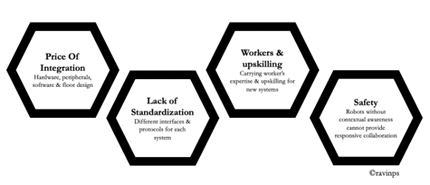 Price of Integration:Integration in an industrial robotics is the process of merging robotics into the existing ecosystem of hardware, peripherals, software and edge equipment/s into a singular autonomous workstation and/or manufacturing line. Even small changes to a manufacturing line requires interventions with integrators w.r.t. design and purpose of robot work cells. SMEs often find integration costs to be prohibitive or unjustifiable due to their smaller production lot sizes, and continuous need to adjust production lines. Context driven intelligent robotics with potent unsupervised learning will be the key …
Lack of Standardisation:Today, robot programming interfaces and communication protocols are not standardized, with hardware, firmware & software specifications (differ between companies). Any new incremental system requires different knowledge and expertise for integration with proprietary technology, which drives cost and deters SMEs from adoption. Standardization is also an important consideration in the integration of robots in shop-floor/s because of the need to know the risks of working with robots and determine the guidelines for working safely. Standards are instruments that help to design easily and correctly the work-cell in order to reduce risks and being safe. Hence familiarization of collaborative robots to industrial standards and converting them into global robotics standards, in adherence to floor and factory scenarios is the key.
Safety: Current robots lack the contextual intelligence (as they lack perception capabilities & Real AI layer for decision making) which can allow them to work alongside humans in a safe and collaborative manner. While large manufacturers could justify greenfield deployment of traditional robots in special work-cells, SMEs neither have the resources for capex investments to re-do entire floor plans around automation. The main features of the collaborative robots is the direct physical interaction between human and robots. However, mechanically safe and powered robots need a considerable time for development and acceptance. The complexity results from the physical contact between human and robot and the associated exchange of forces and energy. SME oriented robotic platforms will provide flexible operational modes corresponding to robot speeds, robot stopping functions such as protective and emergency stops, protective measures such as guards and safeguarding perimeters, sensitive devices such as laser scanners, light curtains and pressure mats, muting operations and pendants among other measures. All these measures will ensure safety during collaborative operations via control of interaction among human and robot to ensure the stability of the system in spite of uncertainties and inaccuracies
Cost of upskilling:Today, robotic solutions need specific technical know-how for each step – from deployment and integration to daily use and re-configurations. For SMEs, where production lines are dynamic, this requires significant time and cost to upskill workers, while any changes may require hiring of third-party integrators to re-configure the entire work floor. Today, a mere 2.5% of Indian workforce has exposure to any formal vocational training. Current robotic solutions need specialised training for each step – from daily operations to any re-configuration. This involves significant investment of time and money for upskilling workers which SMEs cannot afford today. Robotic solutions with spatial intelligence and haptic feedback, will allow direct intuitive deployment and operations, doing away with need for formal training.
Hence, current solutions (from both traditional giants and prevalent start-ups) lack the flexibility, intelligence and are substantially expensive (both money and time) to provide any meaningful return on investment for SMEs. With the advent of Industry 4.0, the convergence of digital, physical, and virtual technologies to form cyber-physical systems will drive the new generation of robots, bringing together several new technologies:
Advanced materials & additive manufacturing:Cheaper and more agile supply chain through 3-D printing, lighter design and build through advanced materials
Edge computing & artificial intelligence:AI will enable computation of context (perception) and build factory intelligence while edge computing will increase responsiveness, brining agility, and collaborative in robots across the manufacturing floor
Internet of things and 5G/6G communication:IoT and 5G will enable swarm designs and set standards for M2M communication, driving efficiencies and productivity in robots & their installation. This connected ecosystem will give birth to new economic models – Robot as a service, which will bring down cost barriers for robotic adoption.
Metaverse:Redefining human machine interactions. Cloning of machines and factories will allow for robotics to drive true automation, allowing SMEs to optimize operations & drive margins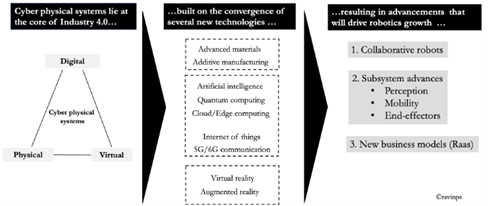 The combination of these technologies, will unlock 3 key drivers, giving birth to robots with contextual intelligence, low implementation time and negligible integration cost, which can cater to the needs of small and medium businesses:
Perception & machine vision: Computer vision systems will form the most critical avenue by developing situational awareness through visual data collection and computation. This will allow robots to go beyond mechanical design and give them decision making capabilities based on contextual intelligence. This will make robots more agile and flexible, reduce the time and cost for re-configuration, making them more suitable for adoption by SMEs. This also opens the possibility for building robots that can be deployed out of the box, further lowering barriers for SMEs
Collaborative robots: Smaller, more robust, and flexible designs will allow robots to work in the vicinity of humans. This will remove the need for greenfield deployment and planning of specialized work cells, reducing both the time and cost of deployment and integration. SMEs will be able to lower the upfront capex and time needed, while also being able to dynamically change workflows and floor layouts based on different orders they procure.
New business models: With the introduction of Internet of Things and 5G/6G communications possibility for smart, connected deployment of robot swarms will open. This will allow a new business model – Robot as a service to emerge, which will significantly reduce the initial capex investments and provide easier integration and updates, opening up SMEs to the potential of automation.
Why we invested in Peer robotics
Peer Robotics is building a heuristics based intelligent robotics platform to provide material handling solutions to manufacturing units (both enterprise and MSME). Their unique tech stack (both software and hardware) allows out of the box deployment for their robotic systems which does not need any dedicated engineering setup in deployment and localisation. This also allows the platform to be flexible to any changes on the manufacturing floor and can be re-configured without significant cost or effort.
Peer's heuristic platform for flexible material handling solutions
Peer Robotics' vision is to significantly decrease the cost of deployment and integration, while providing a truly collaborative solution that can work on dynamic manufacturing floors alongside human operators to drive efficiencies and productivity. Peer's solutions allows API based modules for different use-cases, which makes it easier manufacturing facilities to quickly integrate to their WES/MES systems. The company has already setup a network in India and US to capture the market in manufacturing hubs such as NCR , India and Connecticut in the US with the vision to expand into global markets across India, US and Europe.
Video :Peer's demonstration based learning that allows robot to be deployed out of the box
Ravinder Pal Singh (Ravi) and Pranav Koshal  form the deal team for Peer Robotics at Kalaari Capital. Rishabh ,Tanya and Alok along with the team at Peer are exceptional entrepreneurs and awesome engineers, with the practical understanding of workflows and the ability to translate this into a tech stack that can capture the global markets in material handling.
From Rishabh Agarwal, co-founder and CEO of Peer Robotics – "We are really excited to work along with Kalaari, having Ravi and the Kalaari team's expertise allows us to grow and scale faster in both technology and business verticals. Their expertise in supporting and building deep tech start-ups, that can Make in India for the world is completely aligned to our vision at Peer Robotics"
Kalaari Capital is an early-stage, technology-focused venture capital firm based out of Bengaluru, India. Since 2006, Kalaari has empowered visionary entrepreneurs building unique solutions that reshape the way Indians live, work, consume and transact. The firm's ethos is to partner early with founders and work with them to navigate the inevitable challenges of fostering ideas into successful businesses. At its core, Kalaari believes in building long-term relationships based on trust, transparency, authenticity, and respect.
If you are an entrepreneur (or know an entrepreneur) building a company in the DeepTech space, write to us at deeptech@kalaari.com