"When we write the history of electronic commerce, the 1-Click patent…allowed Amazon to create a very strong position in the market.".
R. Polk Wagner
In 1999, Amazon secured a patent for a 1-Click button for ordering. It represented a breakthrough for the idea of hassle-free online shopping. One-click buying helped alleviate shopping cart abandonment while creating a massive database of customer payment and preference information.
The patent expired on September 12, 2017.
Reinventing online shopping.
The Indian retail landscape has changed massively across the past decade. Gone are the days when package deliveries from online shopping websites were a novelty. The Indian consumer has adopted E-commerce wholeheartedly and tailwinds from the COVID-19 pandemic have ensured imminent penetration even into the rural hinterlands. An increasing desire for personalization has been fulfilled by the proliferation of consumer brands. From bamboo toothbrushes to memory-foam mattresses, we are spoiled for choice.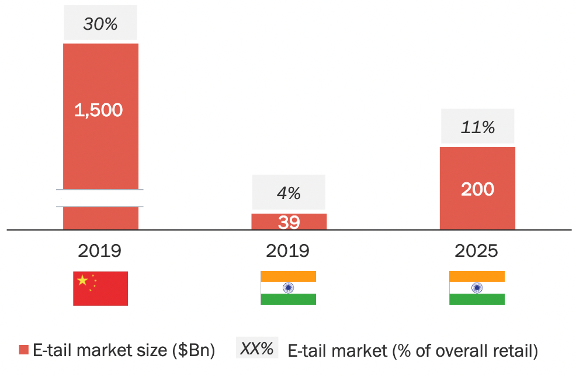 Avendus Capital estimates that D2C E-Commerce will be a $100B market by 2025. Online shopping on D2C brands is witnessing higher growth as compared to marketplaces (88% growth vs 32% growth). Along with variety and differentiated brand positioning, convenience is an important factor in the purchase process. This encompasses the entire shopping experience and is not just limited to the products being ordered.
At Kalaari, we are bullish on the potential of the D2C ecosystem in India. This has shaped our thinking on two key opportunities:
1. Making logistics easier for D2C founders — Forward and reverse logistics is the most complex part of product distribution and additionally has a large impact on margins.
2. Simplifying the purchase experience for consumers online — as consumers ourselves we have experienced the need for a one-click checkout process — the ability to purchase products without signing in or creating guest accounts.
A brand's return policy is a major factor in the decision-making process while buying online. Lenient returns policies drive impulse purchases and loyalty, however reverse logistics costs ~1.5x regular forward logistics — storage of these items is also a concern. Receiving wrong or damaged products are the largest cause for returns from consumers, which also drives churn. However, it is possible to predict potential returns based on customer behaviour, payment mode usage and pin code coverage of the shipping partner.
Globally, startups like Bolt and Fast have raised more than $200M with the goal of providing a seamless online purchase experience — input all your information once, and then never again. As more consumers use these platforms, there is greater data available to build stronger anti-fraud tools and checkout personalization technology.
There is a suite of services centred around fulfilment and payments that can be built for internet retailers. Coupled with the increased adoption of online shopping is the rise in lost revenue for brands, with complicated checkout and complex order closure processes being a major reason for drop-offs.
Why Kalaari Invested in Swift
Swift has built a fulfilment platform for D2C brands and SMEs which sits on top of 3rd party logistics (3PL) players. They provide automated selection of logistics partners as well as automated non-delivery reports (NDR) and insights around return-to-origin (RTO) reduction. The platform also provides retailers with a single-view dashboard with order level tracking, coupled with insights on abandoned carts and retargeting tools.
Swift Checkout provides a one-click checkout for consumers by storing all their payment and address details. Brands benefit through reduced cart abandonment. Swift's offering will also provide them the capability to offer a one-click sign on for brands. Swift has built the foundation of their product with a focus on scale, performance, and security.
Shyam Kalita, CEO of Swift says: "As we move forward to build an ecosystem that nobody has dared to do before; we needed a believer and partner with experience to join us on our odyssey. In Kalaari, we found a partner who has the same vision as ours and we look forward to working closely with them in our mission to grow India's internet economy."
Swift founders (left to right): Debanshu Sinha, Prayas Mittal, Shyam Kalita
Shyam, Prayas, and Debanshu are batch mates from BITS Pilani. What impressed us the most about the team was their strong group dynamic and the innate desire to build a large outcome while solving a challenging problem. Through our conversations with the team, we have been impressed by their clarity of thought as well as the customer-centricity of their product approach. The team has experience across consulting, product and technology.
We at Kalaari are excited about playing a role in Swift's vision to shape the internet commerce enablement ecosystem. Thank you — Shyam, Prayas and Debanshu — we are proud to support you in building a great product that can aid thousands of D2C businesses.
Kalaari Capital is an early-stage, technology-focused venture capital firm based out of Bengaluru, India. Since 2006, Kalaari has empowered visionary entrepreneurs building unique solutions that reshape the way Indians live, work, consume and transact. The firm's ethos is to partner early with founders and work with them to navigate the inevitable challenges of fostering ideas into successful businesses. At its core, Kalaari believes in building long-term relationships based on trust, transparency, authenticity, and respect.
If you are an entrepreneur (or know an entrepreneur) building a company in the SaaS space, please write to us at saas@kalaari.com.
Wish to work with Digantara? Drop an email at careers@digantara.co.in