Market:
The past year has witnessed an explosion of retail investor participation in Indian capital markets, fuelled by the proliferation of digital stock-trading platforms. Confined to their homes in the wake of the COVID-19 pandemic, many Indians, especially millennials, started to directly invest in stock markets to try and make some extra income. 
This explains why demat accounts, which contain retail investor holdings in securities in electronic format, have grown 2x from 36M in 2019 to 81M in 2021, with 18M accounts being added in the last 6 months alone.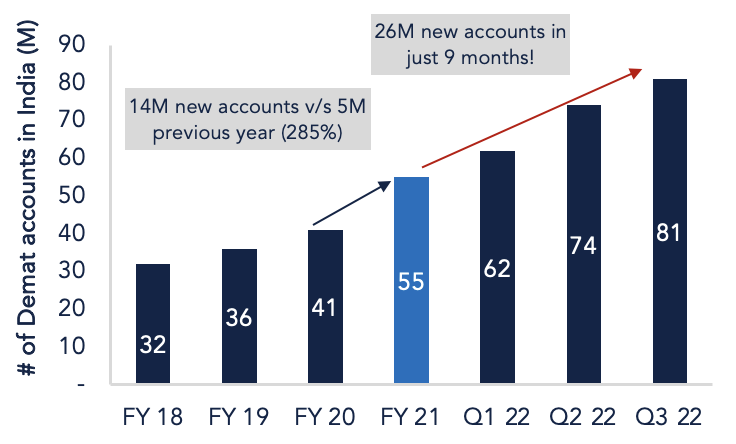 While the penetration of demat accounts is rising, this number still stands at just 5.8% of the country's total population. Given that only 70% of these accounts are unique, the penetration is actually lower than 5%.
On the other hand, global economies have far higher retail investor penetration (USA – 55%, UK – 33%, China – 14%). With increased information and stock-trading access enabled by digital platforms, we believe that equity investments in India will experience substantial growth.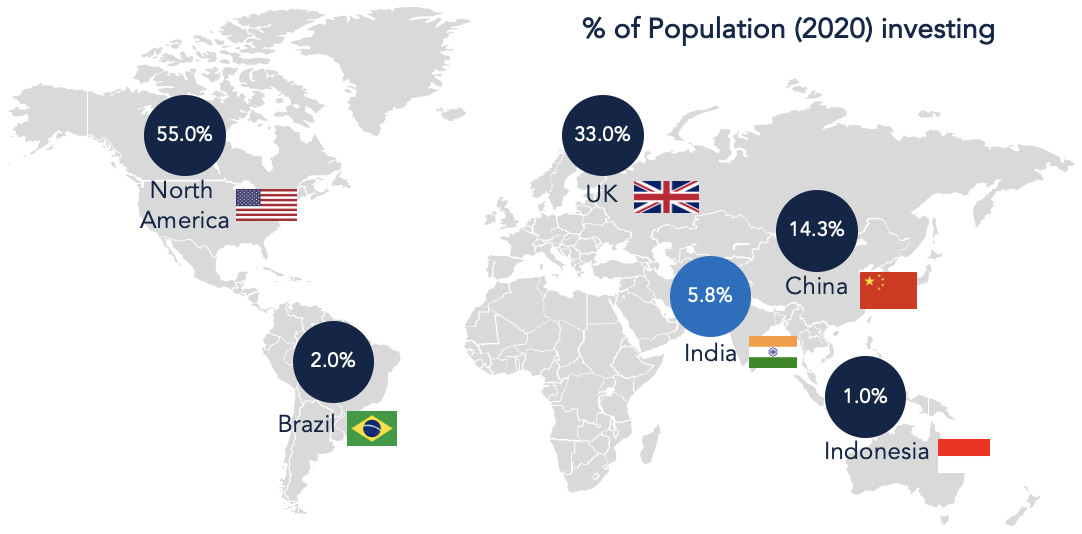 Problem:
There is rising interest among young Indians to invest early and invest well. However, most of these new investors (average age of 28) are inexperienced and largely rely on unverified financial advice across a variety of platforms. One of the most daunting challenges retail investors face is the sheer volume of information, across public data sources, news items, social media, and personal networks like friends and colleagues. With so much information available, it can be difficult not just to identify what is really important, but also to find trustworthy sources of advice. This is the key problem that Threedots aims to solve.
Gradually, the world is moving towards social models from single-user apps, and we believe that the future of investing will be social, collaborative, and transparent. Social investing allows retail investors to observe and learn from the investing behaviour of expert investors (aka influencers) and their friends to build and grow their portfolios. Building a social product solves for growth, engagement, and retention – three critical pillars of a consumer internet business. With Threedots, Rishu, Prakhar, and Akul are reshaping the retail investor's journey by bringing everything they need on a social-first investment platform.
Why Kalaari Invested in Threedots
Threedots is a social-first investment platform for millennial retail investors to learn, interact and transact on financial markets with their friends and famous stock market influencers. Financial influencers have several chat groups to manage their existing paid subscribers. It provides these influencers with a community management dashboard to help with monetisation, followers analytics, and engagement tracking. By providing a full-stack community platform, Threedots has achieved strong retention on the supply side.
We first met Rishu, Prakhar, and Akul in March 2021 and have closely watched them grow from ideation to launch, blitzscaling to 150K+ users in 6 months. Their previous experiences in high-growth consumer internet startups like Groww, Ola Electric, and Zoomcar have helped them gather deep insights into hyperscaling a consumer internet business. They have continued to add features and sections to the product, which have increased user stickiness and led to high levels of engagement on the platform.
We are also impressed with Threedots' financial influencer-led GTM strategy. These influencers bring their fans to the app, growing the userbase more effectively than acquiring those users individually. This helps create a strong network effect, with influencers forming the supply side and retail investors making up the demand side on the platform.
With retail investing in India still at a nascent stage, we believe there is headroom for a strong platform that can handhold millennials and help them make better financial decisions. With a team of 30+ members, Threedots is poised to front this social investing revolution.
Kiran Vasireddy, and Vinesh Singodia form the deal team for Threedots at Kalaari Capital.
We are proud to be early partners with Rishu, Prakhar, and Akul.
Rishu Garg, Co-founder & CEO of Threedots says: "We're creating an entirely new category in fintech by building a truly social investing platform that resonates with today's investors. They are community-first investors and also expect a trustworthy platform to build their portfolio. It's clear that more and more people want to invest in multiple assets and make higher returns than traditional investing like FDs and RDs. They need a transparent space to share knowledge and ideate, which is exactly what we've built. Our goal is to amplify financial knowledge and empower our customers to make a financial decision. We're excited to expand our platform to support even more investors and creators."
We are delighted to have been joined by some of marquee angel investors as we lead Threedots' seed round.
Kalaari Capital is an early-stage, technology-focused venture capital firm based out of Bengaluru, India. Since 2006, Kalaari has empowered visionary entrepreneurs building unique solutions that reshape the way Indians live, work, consume and transact. The firm's ethos is to partner early with founders and work with them to navigate the inevitable challenges of fostering ideas into successful businesses. At its core, Kalaari believes in building long-term relationships based on trust, transparency, authenticity, and respect.  
If you are an entrepreneur (or know an entrepreneur) building a company in the FinTech space, please write to us at fintech@kalaari.com
Wish to work with Threedots? Drop an email to careers@threedots.app